WHY CHOOSE SUNMASTER PRODUCTS
At SunMaster Products, Inc., we are committed to providing personalized customer service and superior quality products at competitive prices. Accordingly, our knowledgeable craftsmen always work closely with our valued Poway clients throughout all stages of their sun shading, fabric die cutting, and contract sewing projects to ensure that they are performed to their exact specifications. And as a result of this emphasis on providing both excellent customer service and top-quality products, SunMaster has established a well-known, professional reputation throughout our San Diego County service area.
Call the sun shade system specialists at SunMaster Products today. We provide free on-site consultations and estimates to Poway, and all of San Diego County and the surrounding areas.
---
PREMIUM SHADING SYSTEMS FROM LEADING BRANDS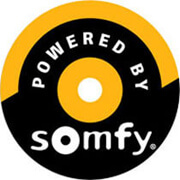 ---
CUSTOM SHADING SYSTEMS
At SunMaster Products, we are a family-owned and operated awning company that is committed to delivering personalized customer service and premium quality products.
---
High-Quality Fixed/Stationary Awnings
for Poway, California
At SunMaster, our attractive awnings and canopies come in a wide variety of styles, fabric colors, and patterns, and are certain to enhance the look of your Poway home or business by adding shape, dimension, and color to your residential or commercial property's exterior. However, the benefits of installing awnings and canopies go far beyond aesthetic appeal. The installation of awnings can result in significant energy savings, due to a reduced need for air conditioner usage during warm weather. This is due to the fact that in a typical structure, more thermal transfer occurs through windows and glass doors than through any other architectural element, and this thermal gain caused by solar radiation is responsible for 20 percent of the load on an air conditioner. Trust the professionals at SunMaster to design and install the ideal awning or canopy to remedy this issue, providing the most comfortable environment possible for your home or business's occupants.
State-of-the-Art Retractable Awnings, Poway, California

We offer our retractable awnings in an extensive selection of fabric colors and types, and in either manual, crank-operated designs, or designs equipped with the latest motorized, automatic operating systems. Our exceptional quality retractable awnings come in a choice of framework metal types, and over 100 powdercoat color framework finish options. In addition, our skilled craftsmen work closely with our valued clients to design the ideal retractable awning systems for their needs. Call us today from Poway.
Comprehensive Contract Sewing Services for Poway, California
In addition to fabric die cutting, SunMaster also performs full service production sewing services for Poway businesses and manufacturers. At SunMaster, we are capable of completing both light duty and heavy duty assembly, and can work with a wide range of textiles and other materials. We have no minimum requirement on the number of items per sewing contract, and also offer packing and shipping services upon project completion.
Sunroom & Skylight Shade Provider for Poway, California
At SunMaster, we appreciate the fact that while skylights and sunrooms are wonderful for admitting natural light into Poway homes and businesses, that at certain times of the day and in certain seasons, this natural light can be excessive. At SunMaster, our skylight and sunroom shades are available in a choice of fabric types and densities which will effectively block the sun's glare and minimize heat transfer through all types of sunrooms and skylights, including curved and flat glass skylights; and curved eave, gable roof, and flat slope roof sunrooms. Call us today.
Energy-Saving Retractable Sun Shades, Solar Screens & Blackout Shades for Poway, California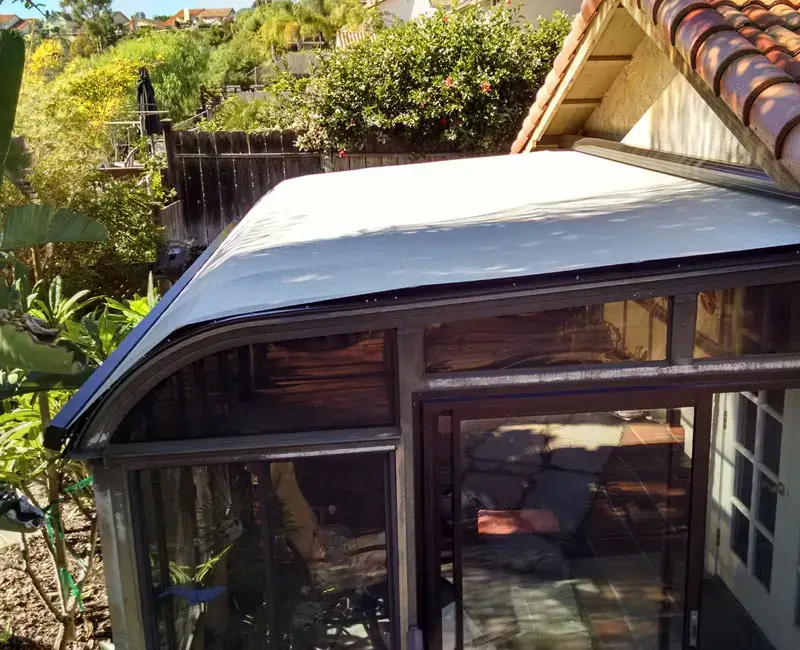 Depend upon the solar screen experts at Sunmaster. At SunMaster, our sun shade system specialists will work closely with you to develop a customized shade solution which best meets your needs while also complimenting your Poway home or business's decor. Sun screens and solar screens are available in both interior and exterior mounted systems. They help to reduce heat transfer through windows and glass doors, filter the sun's glare, and block harmful UV rays from entering your home or business's interior. They protect indoor furnishings from fading, and can provide privacy without blocking a scenic view. In addition, their heat blocking qualities result in reduced air conditioning usage and significant energy savings. In fact, sun screens and solar screens can pay for themselves over time when these increased energy savings are taken into account. At SunMaster, all of our sunscreens, solar screens, and blackout shades are available in a choice of fabric colors, and in manually-operated or motor-operated designs. Call us today. We offer free onsite estimates to all of San Diego County, and are licensed, bonded, and insured.