SAN DIEGO HOMEOWNERS & BUSINESSES CHOOSE SUNMASTER PRODUCTS
At SunMaster Products, we can custom design, handcraft, and install fixed and retractable awnings, canopies, solar screens, sunroom covers, skylight shades, patio cover shades, drop roll curtains, and blackout shades, and we offer these products to San Diego in a wide selection of fabric colors, patterns, and types. Our retractable sun shade systems are available in both manual and motorized designs, and we feature Sunbrella fabrics and Somfy motors and control systems, offered with 10-year and 5-year warranties, respectively.
Call the experts at SunMaster Products today for comprehensive sun shade system design and installation, and professional fabric die cutting and contract sewing services. We provide free consultations and estimates to San Diego and all of San Diego County.
---
PREMIUM SHADING SYSTEMS FROM LEADING BRANDS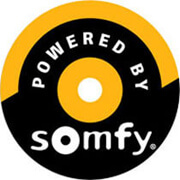 ---
CUSTOM SHADING SYSTEMS
At SunMaster Products, we are a family-owned and operated awning company that is committed to delivering personalized customer service and premium quality products.
---
Custom-Designed Commercial Awnings with Hand-Painted Graphics, San Diego, California
At SunMaster, our expertly-designed commercial awnings are certain to add a sophisticated architectural accent to the facade of any business or institutional facility. Our commercial awnings are available in a limitless range of designs, from traditional to contemporary, including: standard slope, concave, dome, long-dome, quarter barrel, and open-ended styles (such as spear-head and scroll arm awnings). And in addition, they can be custom-painted with your business's logo and name – hand-painted by a professional graphic artist in a durable fabric grade latex-based paint which is highly resistant to peeling and flaking, and will not fade over time. They are available in an extensive selection of fabric types and colors, including the full line of Sunbrella and Dickson fabrics, and in a choice of metal framework types, including aluminum, stainless steel, and galvanized steel.
Unique, Custom-Designed Fixed Awnings for San Diego, California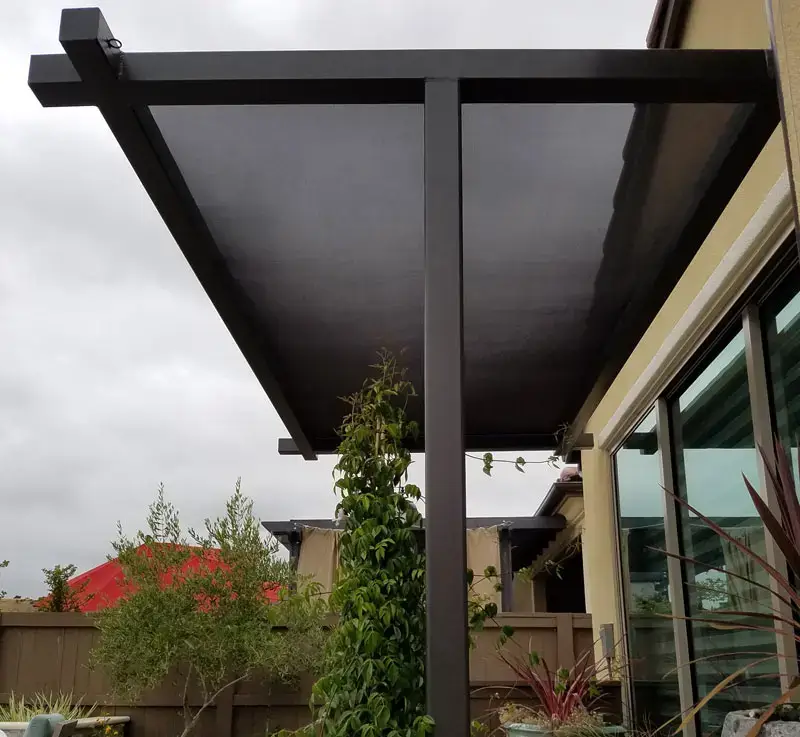 At SunMaster, we offer our custom-designed fixed awning and canopy shading systems to San Diego in a limitless array of custom-designed styles, from traditional to modern; a wide selection of fabric types, colors, patterns, and densities; and over 100 powdercoat color frame finish options. In addition, our awning and canopy framework is also available in a choice of metals, depending upon our valued clients' needs and budgets, including aluminum, galvanized steel, and stainless steel – with aluminum being the recommended framework metal for residential and commercial awnings and canopies which will be exposed to the corrosive effects of coastal ocean air. Moreover, in addition to our long-lasting, premium quality framework, all master-welded by licensed welders, we proudly feature the full line of Sunbrella fabrics and their over 350 fabric colors and patterns. Sunbrella is an acknowledged leader in the outdoor textile field, and stands behind its long-lasting fabrics with a 10 year warranty – one of the best in the industry. Contact SunMaster products today. We provide free onsite estimates to all of San Diego County, and are licensed.
Contract/Production Sewing & Fabric Die Cutting Provider for San Diego, California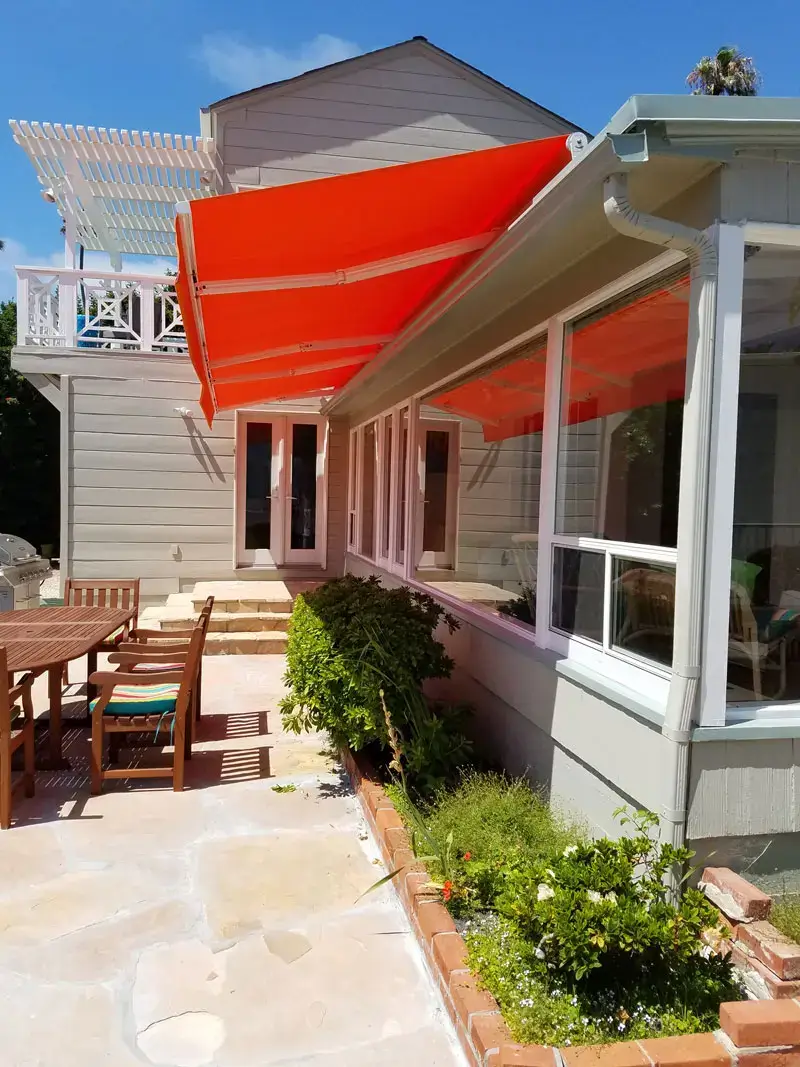 Trust the professionals at SunMaster Products, Inc. with your San Diego business or manufacturing facility's fabric die cutting and/or production sewing needs. At SunMaster, we have a state of the art die cutting and production sewing workshop onsite at our North San Diego County facility, and because we have this resource, and can perform every step of the production and assembly process onsite, we can effectively "cut out the middleman" for our valued San Diego commercial and manufacturing clients, and then pass this savings on to them in the form of very affordable pricing.
At SunMaster Products, our skilled sewing technicians can produce any and all items which can be made out of fabric, and can work with an extensive range of textiles and other manufacturing materials, including cotton, polyester, ballistic nylon, acrylic, kevlar, leather, vinyl, lycra, pvc-coated polyester and fiberglass, rubber, neoprene, webbing, open and closed cell foam, cordura, and thin plastic. And as a full service sewing contractor, we have the machinery required to attach all necessary product hardware such as snaps, grommets, buckles, zippers, etc. We are a Mil-Spec compliant contractor, Cage Code 30FW3, and can produce military grade items, and have often done so for the U.S. Military as well as numerous military contractors and subcontractors. In addition, upon completion of the production process, we can also pack and ship our clients' end products to any destination they specify.
Innovative Retractable Awning Design for San Diego, California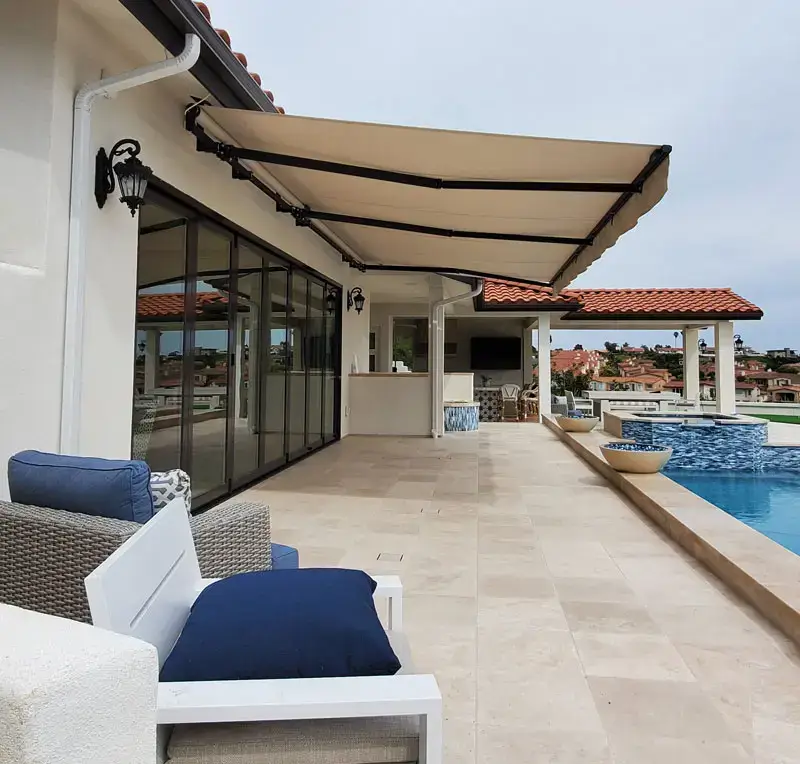 Rely upon the awning specialists at SunMaster. At SunMaster, we offer our retractable awning systems to San Diego home and business owners in both manual and motor operated designs, and can engineer them with the capability of extending up to twelve feet outward from any residential or commercial structure to which they are mounted. Our exceptional quality retractable awnings are available in an extensive selection of fabric types, colors, patterns, and densities – both solid and open weave, and in both traditional and contemporary designs. They are installed in strict compliance with all applicable building codes, and accordingly, all necessary electrical work is performed by licensed electricians, and all framework is welded by licensed welders. At SunMaster, our experienced craftsman follow the highest standards of professionalism in all that they do, and precision-craft and expertly install our stylish, functional retractable awning systems to function beautifully for years to come. Contact us today to schedule a free estimate. We service all of San Diego County and the surrounding areas.