HIGHLY EXPERIENCED AWNING SUPPLIER SERVING FALLBROOK, CA
At SunMaster, we are a family owned and operated business, and are committed to offering Fallbrook personalized customer service in combination with premium quality products. We custom fabricate all of our sun shade systems onsite at our North San Diego County manufacturing facility, and do not outsource this service: effectively eliminating the "middleman" from our production process. For this reason, we are San Diego County's best value for custom shading systems of all types, as well as the first choice for many local businesses and manufacturing facilities for competitively priced die cutting and commercial sewing services, also performed onsite at our state of the art, full service production die cutting and sewing workshop.
---
PREMIUM SHADING SYSTEMS FROM LEADING BRANDS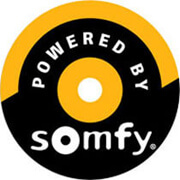 ---
CUSTOM SHADING SYSTEMS
At SunMaster Products, we are a family-owned and operated awning company that is committed to delivering personalized customer service and premium quality products.
---
Professional Fabric Die Cutting and Contract Sewing Services for Fallbrook, California
At SunMaster, we provide expert fabric die cutting and production sewing services to Fallbrook. We can perform both low and high volume contract sewing for our valued clients, and have no minimum requirement on the number of items produced per contract. We have the capability of executing both light duty and heavy duty material assembly, and can work with an extensive array of fabric types as well as many other materials, including: cotton, polyester, nylon, acrylic, kevlar, tyvek, screen cloth, leather, vinyl, lycra, pvc-coated polyester, and fiberglass, webbing, open and closed cell foam, cordura, and thin plastics.
Commercial Awnings & Custom Graphics for Fallbrook Businesses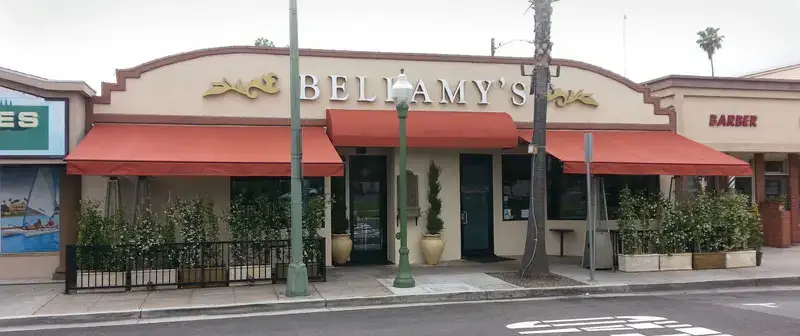 Trust the awning experts at SunMaster to design and install your Fallbrook business or industrial property's awnings. At SunMaster, our highly skilled craftsmen pride themselves on adhering to only the highest standards of quality workmanship, and construct our shading system products to last for years to come. All of our fixed and retractable awnings are available in an extensive selection of fabric colors and types, and over 100 powder coat frame finish colors. In Addition, our custom graphics are hand-painted by a professional graphic artist, in an extremely durable fabric grade latex paint that will not fade, chip, or flake. Call us today.
Patio Cover, Sunroom, & Skylight Shades for Fallbrook, California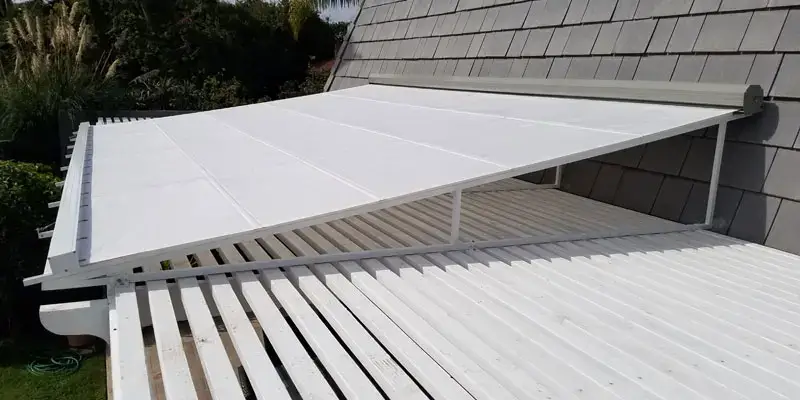 Rely upon SunMaster to design and install the perfect patio cover, sunroom, or skylight shade for your Fallbrook home or business. At SunMaster, our retractable patio cover, sunroom, and skylight shades feature the C.A.S. System™. The C.A.S. System™ is a motorized track guided system which was originally developed as a sunroom shade, due to it's ability to extend and retract over curved glass surfaces. However, over the years this system has been adapted for use in retractable covers for a wide range of structures, including wood and aluminum patio covers, as well as curved and flat glass skylights, and cannot be surpassed for both its efficiency of operation as well as its durability.
Awning Repair, Fabric Replacement, & Recover Services for Fallbrook, California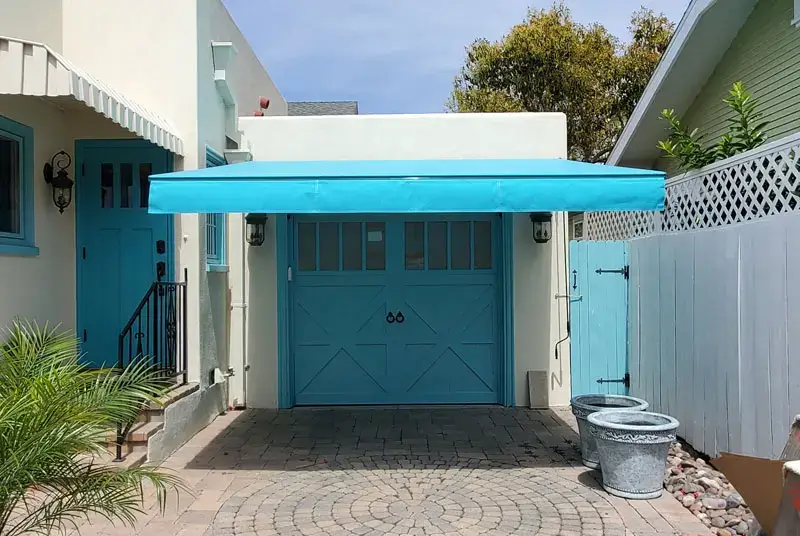 Let the awning specialists at SunMaster rejuvenate your existing awning or canopy at your Fallbrook home, business, or industrial facility. At SunMaster, our awning recovering services can grant existing awnings a whole new lifespan. Are the awnings at your home or business looking a little weathered? Avoid the expense of installing new awnings by taking advantage of SunMaster's professional awning recovering services. At SunMaster, we offer our awning recovers in an extensive selection of fabric colors and types, including Sunbrella fabrics – backed by a 10 year warranty. In addition, we can also recoat existing awning framework, in over 100 powder coat finish colors. At SunMaster, our premium quality powdercoat finishes are extremely durable and weather resistant, and will last for years to come. Call the professionals at SunMaster today. We offer free onsite estimates to all of San Diego County, and are licensed.
Durable Stationary Awnings & Canopies for Fallbrook, California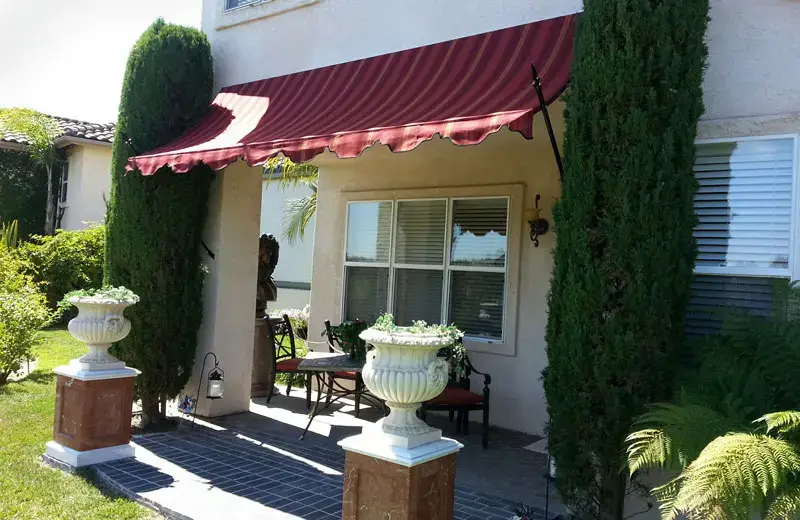 At SunMaster, we are known for our unique custom designs, affordable pricing, and our high quality products. Our fixed awnings and canopies can be seen accenting homes, businesses, industrial facilities, and institutions throughout our San Diego County service area. We are a family owned and operated business, and since we entered the awning industry in 1971, we have serviced tens of thousands of satisfied clients, who appreciate the great value that we offer, and often refer our products and services to their business associates, family members, neighbors, and friends. Join our thousands of satisfied customers, and call the experienced professionals at SunMaster Products today, Fallbrook.